Tampa Fishing Charters – St. Pete Fishing Charters – Clearwater Fishing Charters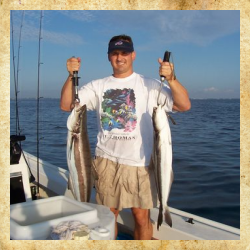 I'm a Florida native, born and raised in the Tampa Bay, Florida area fishing these waters as a kid in search of the same species I now guides others to. I'm very knowledgeable of my home waters and know the surroundings and conditions it takes to make a fantastic Tampa Bay fishing charter adventure. When you call or email and ask about booking your Tampa fishing charter, St. Pete fishing charter or Clearwater fishing charter I'll give you an honest account of what to expect as far as species and how good the fishing will be for that time of year while fishing Tampa Bay area. Some of our Tampa Bay area fish species aren't cooperative during certain times of the year. By checking into my "Target Species" pages on my website you'll see what time of year these fish are around and when's the best time to fish the Tampa Bay area.
As a licensed and insured guide, safe boating habits are practiced at all times.
For the Tampa Bay area fishing adventure of a lifetime I will customize the trip to fit your needs just complete the contact form on my contact page (phone call is fine also!) for information regarding my Tampa Fishing Charters, St. Pete Fishing Charters, or Clearwater Fishing Charters. If you are on a business trip or don't have a fishing partner please contact me for special single angler rates. I look forward to hearing from you!!
A Typical Day on the Water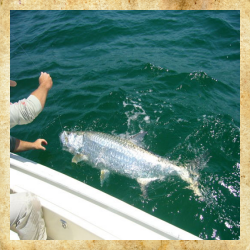 Our typical day starts out with you meeting me at one of our Tampa area fishing charter locations. From there we run to a nearby grass flat, bridge, or other fishy structure in search of the baitfish we will be using. Capt. Chris will throw the net a few times collecting a few hundred baitfish and then we're off to our Tampa fishing grounds! I can also catch bait before your trip but a lot of anglers like to watch the bait being caught.
We can start out fishing Tampa Bay mangrove shorelines early for fantastic Snook action in the backcountry then head over to fish St. Pete beaches or bridges for some exciting Tampa Bay tarpon fishing action on light tackle. We will end the day with some fabulous Tampa Bay shallow water Redfish and Trout action on the grass flats.
After returning to the dock at the end of the day, Capt. Chris will fillet and package your catch. This is a sample day since we also charter for Mackerel, Grouper, Jack Crevalle, Cobia, Snapper, Pompano, Silver Trout, Flounder, and the list goes on!
Included with all Fishing Charters:
All bait, tackle, and license provided. Fillet and packaging of fish also. Instruction is provided on all trips by a knowledgeable, easy going, and patient instructor that makes fishing the way it is supposed to be – FUN!!!
Items to Bring With You:
Food & Drinks
Sunglasses
Hat
Sunblock
Fishing Charter Guarantee:
I'm a local native fishing guide with a lifetime of local Tampa fishing experience. This is no fish, no pay. No excuses. There will be days on the water when mother nature doesn't provide the best conditions for fishing for certain species of fish. There are no two days alike on the water, things like tides, wind direction, and weather change day to day. This is why guides have been known to say "you should've been here yesterday". Been there, done that. In this situation, I reserve the right to fish for other species that are willing to eat in these conditions to fulfill the no fish no pay guarantee. There is absolutely no excuse to go fishing in the Tampa Bay area and go fishless. I bring tackle from light to heavy on every trip rigged for the fishing we'll be doing or for the fish that might "swim by" while we're on your fishing charter. There is always species of fish here that will eat regardless of the tides. I've had far to many people out on my Tampa fishing charters that have told me about prior trips where they trolled all over the place, caught nothing, and didn't touch a rod the entire day! Or they targeted one particular species and when that failed there was no plan to fish for something else. Not here!
Rates:
4 Hour Charter = $400
6 Hour Charter = $500
8 Hour Charter = $800
Trips can be shortened and prorated hourly, call for details.
Prices are for 1-2 anglers. Add $50.00 for an additional angler.
Call for special rates on sightseeing and photo adventures.